Best Super Automatic Espresso Machines - Buyer's Guide
Imagine how you can change your breakfast when you get up knowing that you will have an espresso drink in hand and ready with the push of a button. This is where the super-automatic machines are useful to make your life easier. If you want to save time making the coffee in the morning this is where these super-automatic espresso machines were created to eliminate the work and save you time.
We had to think a lot when we checked at these espresso machines. One of the main features we looked at was the ease of use as no one got the time to spend half an hour to figure out what button to press to get the espresso. We also had to consider if the machine needed ground beans or could get both whole beans, and ground coffee. The last thing we checked was the value – a super-automatic expresso machine should be way less expensive than what you usually pay for coffee at Starbucks or your local coffee shop over time. You can find our top picks below, followed by a more detailed review of each espresso machine to help you find the best one for your needs.
What things to look for when purchasing a super-automatic espresso machine?
Purchasing a super-automatic espresso machine is a big investment. If you are going to spend a lot of money on an express machine, you need to make sure you know what you are buying. In this section, we will show you the important things to evaluate while deciding which super-automatic espresso maker is best for you.
The most important factor that determines what kind of espresso machine you can buy is what budget you have. Even with a considerable amount of money, the quality and features you are looking for can be unattainable. It is important to decide on a budget before you start buying seriously, to immediately eliminate espresso machines that exceed what you are willing to spend.
What features do you want?
Part of your budget consideration should include which features are essential and which are simply basic to have. There is a wide range of functions available in super-automatic espresso makers, some of which may not interest you.
We think the most important consideration is the grinder. A good grinder that continuously produces the fine coffee needed for high-quality espresso will make the difference between high-quality and low-quality espresso coffee.
Look for a conical burr made of stainless steel. Stainless steel grinders will survive almost every other part of your machine and you will never have to worry about replacing them. Conical burr is the standard for durability, so make sure every espresso machine you see at least uses a conical burr. Ceramics are a good replacement, but if you plan to use your espresso machine regularly for years, you may need to replace a ceramic burr eventually.
Since super-automatic machines are such a huge investment, it is important to take proper care of them. A properly maintained car can last for many years. Most machines have a light that lights up as a kind of signal when you need to do a cleaning. Some machines do not come with a cleaning signal and instead recommend removing the dust after a certain time interval. We recommend that you look for an espresso machine that comes with a signal light. Without a light that turns on automatically, it is very easy to forget to remove dust from your machine, which will reduce its lifespan.
In addition to regular descaling, you should also clean your machine at least once a month. A machine with a removable brew unit will make regular cleaning much easier. If you must buy an espresso machine that does not have a removable brew unit, make sure you know what you are getting. Brew units need to be rinsed regularly and require more extensive maintenance from time to time. Lubricating the moving parts of a brew unit that is not removable is a much bigger job than lubricating a unit that comes out easily.
COMPARISON TABLE OF SUPER AUTOMATIC ESPRESSO MACHINES
7 Best Super-Automatic Espresso Machines
Now without waiting any longer, let's help you find the best super-automatic espresso machine for home use that will make you that perfect espresso shot:
Starting things, we have the De'Longhi Magnifica Super-Automatic Espresso Machine. The grinder has a high-quality steel burr grinder that automatically grinds your coffee on demand. Once the coffee is ground, the sludge is wiped off, the water is heated, and the pressure pump starts the boiling process as you watch. It is easy to use and there are a variety of options you can control to make the perfect picture.
A really great feature this espresso machine has is the ability to save your preferences for future use. Once you have activated the settings, you can make the perfect espresso coffee with just one button. We also like that the beer unit is portable, making cleaning easy without specialized tools.
There is a reason this espresso machine ranks first, and there are not many things you can complain about. If we had to sort it out, we would focus on foaming, which is nothing special. Other machines come with automatic foamers that make your job even easier. While it would be nice to have this machine, it literally does everything else with the best results.
Overall, we think this is the best super-automatic espresso machine available this year.
In second place is Gaggia Brera Espresso Machine. It does not give the same high level of performance as De'Longhi, but it is much cheaper, making it one of the best super-automatic express machines for those on a budget. The first place Gaggia has cut costs is in the grinder. Instead of a steel scissors grinder, Brera features a set of ceramic scissors. Steel and ceramics offer similar levels in grinding performance, but ceramics may not match steel in terms of durability.
There are several pre-programmed drinks to choose from, and you can also create your own personalized drink preferences, which is good to have. The grinding set is removable, which makes cleaning much easier. There is also a manual steam rod.
The main selling point for this car is the cheapest price. It is significantly cheaper than most other super-automatic espresso machines and makes great coffee. Compensations are ceramic nozzle, which is less durable and has a smaller capacity. The water tank holds only 20 ounces and can only hold five balls used. This means you will find yourself filling the tank and removing old balls often.
If you thought the previous two options were expensive, then you will be in total shock. The fully automatic Breville espresso machine has everything you want in an espresso machine. To make a drink you can use the touch screen to select what you want from a long list of predefined options. There are options for cappuccino, latte, macchiato, and many other options. Almost every drink you can order at a Starbucks has a built-in pre-programmed option.
Once you select the drink you want, the right amount of beans is automatically grounded using a brushed and pressed steel conical nozzle. There is an electronic sensor that keeps the grinding temperature constant during the brewing itself and a pre-infusion step that ensures perfect extraction. Foaming options are also adjustable and automatic.
There is no downside other than cost, which is extremely high. This is the culmination of home espresso production. You cannot get closer to having a more live bartender than having this espresso machine. If you have a lot of money to spend on the espresso machine and want a real one-button experience, this is the espresso machine for you.
This is difficult to follow compared to the espresso machine above, but if any espresso machine is close to the level of cars mentioned above, then it is the Philips 3200 series. For those who are beginners, there is a much higher price bargain than Breville, but of course, quality is also an important step-down. Like Gaggia, this espresso machine features a ceramic burr that chooses durability for a reduced cost.
There is a large list of drinks to choose from, and you can arrange them to your liking. What sets this espresso machine apart from others is the lightweight foam system. If you make a drink that requires frothy milk, the machine creates frothy milk and automatically adds it to your cup. It is a tubeless system which means that no cleaning is required even if milk is used. This is a great benefit if you prepare latte and cappuccino often.
We are not enthusiastic about ceramic nozzles, but we realize that the low cost of equipping ceramic nozzles is what allows them to pack so many excellent features into a relatively much cheaper machine. Overall, this is a great espresso machine for the price it has, especially if you find yourself using it mostly for cappuccino or latte.
Next, we have a compact espresso machine from Saeco PicoBaristo. This machine is distinguished by having a large list of 11 drinks with a small footprint. Most espresso machines with a similar number of features and drinks to choose from are much larger. If you have limited space, this espresso machine may be convenient for you.
This also has ceramic burr, which is becoming a pattern as we scroll down the list. There is nothing wrong with a ceramic burr in terms of coffee quality, but the durability of ceramics will always be lower than steel. In general, the construction of this machine seems cheaper than others. When you spend so much money, the last thing you want is for your car to feel and look cheap.
While ceramic burr and the overall cheap feeling is the downside of this machine, the bottom line is that it produces extraordinary espresso. However, it is not as cheap as you might think based on feeling and appearance, which leaves us less impressed than we would otherwise be.
The KRUPS Super Automatic Espresso Machine has a good balance between good features, cost, and performance. It can make 15 different drinks and includes an integrated milk frother. While there are custom options, they are not as flexible compared to other machines. You can choose a "bold" option that changes the amount of coffee you use and has an "extra shot" button that can double the espresso content of your chosen drink. Beyond that, there are no other options to adjust or play.
There is a steam stick on board that works well when it works at all. We had a very hard time keeping it from clogging and had to put it in hot water after each use, which eliminated the jam, but it is very maintenance and takes your time. While we are talking about maintenance, if you buy this car, do the cleaning after every fourth or fifth use. Because if you do not clean it too often, it may get stuck and may not work.
The maintenance problem is a pain, but if you can keep it in good working order, it makes excellent espresso. It is much cheaper than other super-automatics but does not work as well as Gaggia Brera.
Our last espresso machine on the list is the Espressione 8212S. We will start by saying that this machine has its proper part of problems but can make good espresso and is much cheaper by the standards of super-automatic espresso machines.
The design of this espresso machine is interesting in several ways. First, it has a stainless-steel burr grinder, which is unusual at this cheaper price. Second, it is extremely compact, which means it can easily fit into any kitchen where a traditional super-automatic machine cannot. Finally, there are no predefined options for drinks. This machine produces espresso coffee. It is up to you to use the espresso it makes in your chosen drink. In our opinion, this makes it more of a standard machine than a super-automatic, but the burr grinder puts it in the super-automatic category.
Our main problem with the machine is the bean hopper. In about half of our drinks, we had to manually help the beans get into the grinder, which eliminates the goal of having a super-automatic espresso machine.
Overall, we appreciate the effort to offer a very affordable espresso machine in the super-automatic category, but it does not fully function. You can use it to make good espresso drinks, but it requires little effort.
Buyer's Guide to Choosing the Best Super-Automatic Espresso Machine
Now that you have learned more about our 7 favorite super-automatic espresso machines, you have probably decided that this is the best way to get your espresso drink in the morning. But choosing between all these machines can be very difficult if you are new to automatic espresso machines. In our shopping guide, we will take a closer look at what super-automatic express machines are and how they differ from manual ones. We will talk more about the most important features you need to know to get the best espresso for your needs. Plus, we will explore the advantages and disadvantages of automated espresso machines.
What is a super-automatic express machine?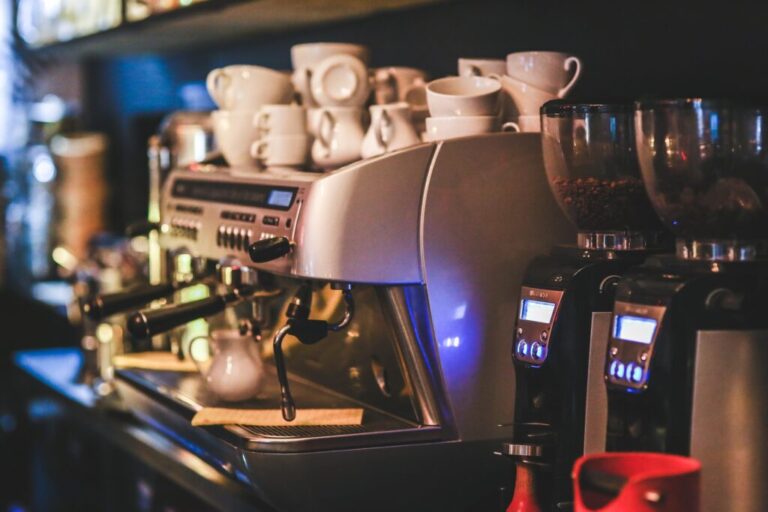 A super-automatic espresso machine is just an automatic espresso machine. This means that the water is heated from the inside and you have a selected menu or set of buttons to tell the machine how much water it should dispense, how concentrated you want your espresso drink, and what kind of espresso drink you want.
These espresso machines are called "super-automatic" because they go beyond what many other espresso machines offer. Since many espresso machines do the water heating for you, you still must put the coffee grounds into a grinder and connect them manually to the water outlet. With a super-automatic espresso machine, it also opens the care inside your espresso machine. So, you must do nothing more than put your cup under your mouth and press the button for the drink that you prefer.
Importantly, super-automatic espresso machines are very easy to use when it comes to making your own espresso drinks. In most cases, you do not even have to deal with coffee grounds right away – they will automatically be thrown in a trash can.
Of course, these machines are not 100% automatic. You will still need to make sure that the tank is full of water, that there are coffee grounds or whole grains in the container, and that you occasionally empty the trash can. Additionally, since almost all parts of your espresso machine are internal, these machines require you to open them for occasional cleaning and descaling.
Features to Consider Before Buying
Super-automatic espresso machines come with several options and features – it is part of what makes these machines so useful. But here you really must decide which espresso machine is best for your needs. We will help you decide by showing you the features you need to know and explaining how they can affect your espresso drinks.
How many times in a day are you going to use your machine? Is one cup of brew enough for your day to start? Or do you like to intake multiple cups mostly throughout the day? The family also comes ahead. You are indeed not the only person in your family who wants to begin his day with a cappuccino or lattes.
For a single person or a drink, a machine with a single or small boiler can perform an excellent job. But if you live in a joint family where you have to serve multiple drinks with different flavors, then machines with an oversized boiler are recommended.
Tip
If you pick an espresso machine with a grinder, you no longer need to buy a separate coffee grinder or espresso grinder.
Most super-automatic espresso machines only take whole coffee beans. This is because many coffee lovers prefer whole beans – they retain their flavor better over time, compared to ground coffee will be oxygenated, and become more bitter before use.
If your espresso machine can take whole coffee beans, it's because there is a grinder inside. So, the machine will only grind the number of beans it needs to make your drink of choice at the beginning of the cooking process each time. Keep in mind that some integrated grinders offer only a few grindings size options, while other machines offer different sizing settings.
Sometimes, you can find a super-automatic espresso machine that can take both ground coffee and whole beans as well like Gaggia Brera Super-Automatic Espresso Machine. There is not much need to take advantage of this, as your drinking time is mostly limited by the time it takes to heat the water not the time it takes to grind the beans. But it can be useful if you already have a lot of ground coffee around the house.
Info
Some espresso machines have an impressive appearance with their stainless-steel look and require a relatively large amount of space. But there are also compact models that are suitable for smaller kitchens.
When choosing a machine that uses beans or capsules, there are pros and cons to both options. When it comes to beans, they have a fresh taste with which no capsule can compare. Fully automatic machines that use beans cost more than capsule versions. Pre-ground coffee or the beans themselves are much cheaper than buying those capsules in the long run, so over time, you can save money with the more expensive model.
A good espresso machine with capsules can cost less than even low-end bean machines, so they are great for those on a budget. However, you will not save money on green beans, as each costs up to $ 1.00, which can cost you hundreds of dollars a year just for coffee. Capsules also add waste that goes to our landfills if they are not recycled properly so they are not good for the environment. The benefit of capsule machines is that they are very easy to use and save you time in the morning, which is a must when you are in a hurry.
Water Tank Capacity and Bean Container
The capacity of the bean container and water tank is primarily a matter of convenience. Larger bean containers and water tanks will need to be refilled less frequently, so you will not go for espresso and will find that you need to add beans or water before you can drink the caffeine.
Most of the espresso machines we have reviewed usually offer bean container capacity between 8 and 15 ounces and water tanks between 50 and 80 ounces. Some smaller machines have smaller capacities, but also take up less valuable space on the counter in your kitchen.
The heating system in your super-automatic express espresso machine is very important.
Most espresso manufacturers have a dual boiler heating system. This means that there are two boilers – one for heating water to pass through the coffee grounds and the other for heating water for steam and foam. This system is very consistent and efficient as you do not have to wait for the steam to heat up after extracting the coffee.
A single boiler heating system only heats the exhaust water or steam alternately. In some cases, the espresso machine will automatically switch between the two modes, while in others, you will need to turn a key. This requires a little more care as you may end up with fresh, unboiled water or very hot water for efficient coffee extraction if you are not careful.
Finally, some cars use a thermoblock system, which is basically a hot block with which water passes and heats up extremely quickly. These systems are much faster than boilers, but they have the downside of being somewhat less consistent in heating your water to a certain temperature. So, they are not so ideal if you want a perfect coffee extract every time. Be sure to check if the espresso machine has a single thermoblock or two different thermoblocks like a dual boiler system.
Type of Grinder and Settings
The type of grinder inside your espresso machine can also affect the quality of your drinks. Most of the espresso machines include high-quality conical grinders or burrs. Both grinding styles work much better than cheap blade grinders for producing coffee grounds size for the drink you want. Importantly, as they function mainly by pressing rather than cutting, they also prevent heating and oxidation of coffee grounds during the grinding process
The settings available in the grinder are also important. Many integrated coffee grinders offer no settings at all or just three different grinding size options.
This choice may not always be necessary if you are making espresso coffee, but it may be important if you also want to use your coffee machine to make other drinks.
Express machines rely on high pressure to push hot water through the coffee grounds bundle. So, pressure is essential to how your espresso machine works, even if it is not a feature you will see much advertised by the manufacturers.
Pressure settings vary slightly on expresso machines, but this is not a big deal. The pressure of each machine must be optimized for the plumbing and interior design of that unit.
A feature that allows you to make espresso coffee at the touch of a single button. Many super-automatic espresso machines allow you to program a specific drink according to your preferences, then prepare it with a single button. For example, you can program the ideal water temperature, the amount of coffee used in a drink, and the amount of steamed milk you prefer. Later, you can create your own personalized one-touch drink.
Temperature, like pressure, is extremely important. But, like pressure, you will not have much control over this for every super-automatic express machine – it is one of the things you get rid of using automatically.
If you notice that your espresso drinks tend to be very cold, you can try heating your cup by placing hot water in it. Otherwise, the heat from your espresso will be quickly absorbed into the walls of your cup.
Depending on how committed you are to having your espresso in a certain way, the default and personalization options in an espresso machine can create or break that pattern for you. Some of the most advanced super-automatic espresso machines we've seen offer customizable recipes and settings, so you can easily define your perfect espresso drink.
Many other espresso machines come with a different number of presets, which require less work but cannot be customized. If you choose an espresso machine with only presets, make sure the presets are available to suit your tastes.
Milk frothing is the main thing for drinks like latte and cappuccino. These two main milk frothing options in the automated espresso machines we explored. The first is a steam manual. This requires you to have a little milk that can foam on its own, and then you must manually pour the steamed milk into your espresso drink.
The other option is more automatic. Some machines with an integrated and detached milk frother. It is automatically steamed and then dispensed into your cup after espresso and water. But you have much less control than with a manual steam wand.
Many models allow you to adjust the strength of the drink and the aroma of the coffee you are brewing. This is done by changing the amount of coffee that is put into everything. To do this, you need to change the grinding characteristics from large or larger grinds to smaller grinds.
If you are making your own espresso and notice that the extraction is a bit slow or that it tastes quite bitter, you can choose a coarse grind. This allows water to move more easily through the grinding. If the extraction is too fast or the brew is a little weak for your taste, you can adjust it to a larger grind to increase the strength produced. Make sure the grinder is running when adjusting the grinding settings, so as not to damage the scratches.
Size of the Cup that Fits
No cup has the same for every issue when it comes to your morning coffee. Unfortunately, it is difficult to say in advance whether your favorite cup will fit under the spout of your chosen espresso machine. What is best done here is to check customer reviews for any complaints regarding their cup connection.
In general, most of them are small and medium-sized mugs, while the world's large mugs do not fit into automated express machines.
One of the best things about espresso machines is that the production is designed to make them easy to clean.
In addition, it is worth using a machine with an integrated water filter, so as not to damage the minerals and another crude that accumulates in the plumbing. If your espresso machine does not have a filter, we would recommend making your espresso with filtered water.
Finally, make sure that the brew set – the internal holder of the bases – is not removable. This is important because the unit stays isolated, and the terrain does not get inside the machine.
If your super-automatic espresso machines are in your kitchen, they can be very important. The kitchen counter space is always in consideration when you want to purchase an espresso machine.
Dimensions of express machines are usually bigger. Some machines are short and wide, which allows them to be placed under the wall cabinet. Alternatively, some machines are tall and have thin to leave less trace on your kitchen counter.
There are a few more features of super-automatic espresso machines on the market that make them a little more efficient to use. One of them is a control panel, which allows you to change the equipment, output power, or choose the drink you want. These control panels should be easy to use, with instructions, to know what you are doing.
Other materials must strong and durable, to last for years. Some models use plastic pieces, which is good for many of the parts, despite the steel at the same time, plus it adds a great look to the espresso machine.
An adjustable stand is fixed if you like to make different types of drinks. For example, an espresso-only needs a small cup, while a latte has some extra juices that make it occupy a little more space, requiring a larger cup.
Pros & Cons of Super-Automatic Espresso Machines
There are many things to love about super-automatic espresso machines, but they are also not without their drawbacks. So, what is great about these machines and what is not so great?
How Should an Espresso Machine be Descaled?
The cleaning and decalcification of espresso machines involve a certain amount of effort that is worthwhile. After all, residues and dirt particles can change the entire aroma. Every owner of such an espresso machine should plan regular cleaning intervals.
Decalcification is the soft hardness range that takes place twice a year.
If the water hardness is medium, it is sufficient to descale the machine every 3 to 6 months.
If the water is hard, it should be descaled once every three months.
The hardness of the water can be determined with the help of a test strip.
Caution
Citric acid and vinegar are unsuitable for cleaning and descaling. The components in the espresso machine would be irreversibly damaged.
The Right Coffee Beans for the Espresso Machine
The espresso beans should be ground very finely with a grinding degree of 2 to 3. In this way, the water absorbs sufficient aroma within a short time, which ultimately ends up in the cup. It is important to distribute the espresso powder evenly in the portafilter to avoid air channels. Compared to normal coffee beans, espresso beans are generally darker and more aromatic.
It is worth investing a little more money, as the differences in taste are enormous. The main difference is made by the roasting and roasting process. The coffee beans for classic coffee beans are not suitable for the espresso machine. They produce too high acidity, while espresso beans contain less acid and are therefore more digestible.
Incorrect storage can lead to moldy beans that must not be processed under any circumstances. Immature, broken, or eaten pieces of shell in the packaging are a sign of inferior quality. The roast date, degree of roasting, and origin of the beans provide information about the taste profile to be expected.
It is only when the green coffee is processed that it is decided whether the bean ends up in the espresso or in the coffee. The espresso requires a longer roasting process that takes around 15 to 18 minutes. The roasting time of normal coffee beans is 10 to 15 minutes. High-quality espresso beans are usually dark brown, shiny, and oily due to the coffee oils.
Maintaining your Super-Automatic Espresso Machine
There are several things to consider when it comes to maintaining your super-automatic espresso machine:
Clean the drip tray and trash can before overfilling.
Clean any ingredients contained in skim milk every few days up to a maximum of once a week.
Every few weeks, unplug all the beans and wipe with a food-grade cloth and disinfectant to get rid of the oil.
Once a month, pour distilled water through the machine to help remove any mineral accumulation.
Once a month, take a close look at your brew group. If it is removable, rinse thoroughly with hot water. If not, make sure the O-rings look good and add lubricant to any moving parts as needed.
Before the end of your unit's warranty period, you should take it to a professional repair shop to have the machine disassembled and serviced. Technicians will be able to point out any problems that fall under your warranty policy.
In general, it is a good idea to avoid coffee beans that are too greasy – ideally, stick medium roasted beans to medium-dark.
We hope you find these guides helpful! Super-automatic espresso machines are very expensive and the decision to buy one should not be taken lightly. We hope our recommendations help you find the right machine for you, and we hope our buyer's guide helps you choose what to look for in a super-automatic espresso machine.
Our overall recommendation is the De'Longhi Magnifica Super-Automatic Espresso Machine. It's the best balance between cost and features and is the perfect presentation in the world of super-automatics. If this is too expensive for you, then a great budget choice is the Gaggia Brera Super-Automatic Espresso Machine. It's not as convenient as De'Longhi, but it does make excellent espresso anyway. Instead, if you are looking for the best homemade espresso experience that can be purchased, with the one-button operation, look no further than the Fully Automatic Breville Espresso Machine.
Are you able to use whole beans coffee in a super-automatic espresso machine?
Some espresso machines have a bypass doser, which is a small side container where you can place whole beans coffee. This ensures that you do not pass ground through your mill, which can not only block the grinder but also spread the soil throughout the interior of your espresso maker. If you plan to use whole beans coffee, make sure your appliance has a bypass or secondary dispenser.
What is the optimal pressure to make espresso?
Most bartenders and coffee lovers will tell you that 15 pressure bars are the perfect pressure level to make espresso. However, you will not have much control over the pressure in a super-automatic expresso machine. The pressure will be around 9 bar but can be adjusted to optimize for your espresso machine.
What is the difference between stone and conical grinder?
Conical grinders use two cone-shaped pieces of metal to crush coffee beans, while spout grinders have two rings piled with teeth on the sides of the junction. Both types of grinders are used by professionals because they produce very stable grinding dimensions and do not produce much heat during the grinding process.
Are fully automatic espresso machines and super-automatic the same thing?
No, fully automatic espresso machines usually do not have a set of drinks inside. This means you will need to use a portafilter that you fill manually with a coffee grinder and attach it to the mouth of your espresso machine. Super-automatic espresso machines take care of this from the inside, so you do not need to do any work at all to make your own espresso.
The simplicity of coffee grounds affects the strength of beverages in a very specific way. The thicker the grind, the easier it is for water to flow through it. This can lead to weaker coffee, so if this is what you prefer, a thicker grind is best. A fine grind slows down the extraction process, keeping the water from touching the coffee grounds for longer, making the boiling force a little stronger.
What level of roasting of coffee beans do I use if I prefer milder flavors?
If you prefer a mild flavor to your coffee, you should choose beans that have a light roast. These beans are not roasted if medium or dark roasted beans, so they retain the flavor of the beans themselves instead of taking on more of the roasted aroma. They got less oil on the surface. Along with the mild aroma, you also get more caffeine with lightly roasted beans, so they are a great option for your morning cup of coffee.
Are capsules better in the long run?
No, capsules are no longer economical over time. Capsule machines are less expensive than bean machines, but the beans themselves are cheaper than capsules. A bag of beans costs only about $ 0.20 cents per cup, while each capsule costs up to $ 1.00. If you drink one cup a day, that goes to about $ 365 a year in capsules, compared to about $ 73 for high-quality espresso beans. So, in the long run, the whole beans are way cheaper than capsules.
Disclosure: There are affiliate links in this comparison. If you click on one of the product links and buy a product, we will receive a commission for this. However, there are no additional costs for you. Thanks a lot for this! Learn More