Much more than "cold coffee". Cold, refreshing coffee? Introducing Cold Brew Coffee. The full aroma and hardly any bitter substances. The refreshing and cool version of coffee is currently the absolute trendsetter:
We are presenting the exciting, and above all, refreshing alternative to conventionally brewed hot coffee. Because cold brew coffee is much more than "cold coffee". Perfect for hot summer days and in the home office! Would you like to prepare the coffee trend yourself at home? We show how you can easily prepare cold brew coffee yourself
Cold Brew Coffee Vs. Classic Coffee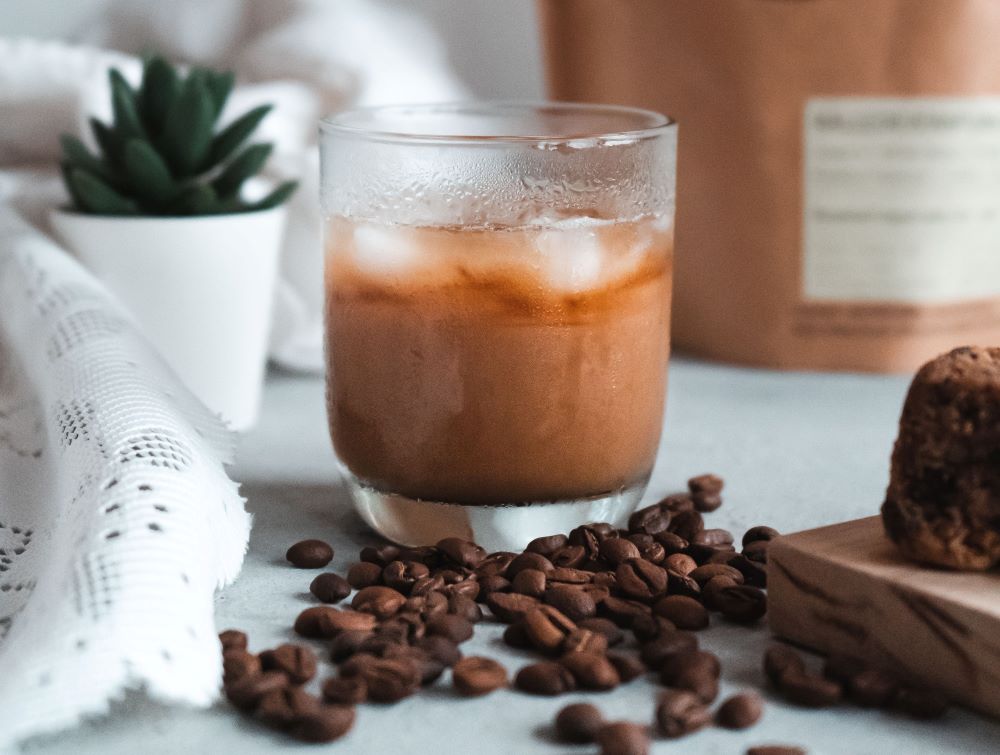 We all know classic coffee. Fresh ground coffee, hot water, and a coffee maker. Here, with the help of hot water, as many of the ingredients and aromas as possible are extracted from coffee beans in a short time.
So what is the big difference between cold brew coffee and "regular" coffee? 
The preparation of cold brew coffee works the other way around: Contrary to what you might think, this is not just cold coffee or coffee that has become cold. With cold brew coffee, cold water is used right from the start. To do this, coarsely ground coffee is extracted over several hours. With this method, around 90% of the aromatic substances and at the same time 70% fewer bitter substances and acids are removed from the ground coffee than with classic hot brewing. 
The cold brew scores as a particularly low-acid and mild coffee, which nevertheless convinces with a full-bodied aroma. Another side effect is that it has 10% less caffeine content. Prepared the evening before, you can look forward to your fresh and cold coffee the next morning, which is a great substitute for warm coffee, especially on warm summer days. Here you can find out which coffee makers and coffee roasts are best for cold brewing.
What Equipment Is Required?
You can prepare cold brew coffee at home with various coffee makers. A French press maker or a special cold brew maker, for example, are suitable for this, as they make preparation very easy and particularly convenient because you do not need any additional products such as filters or sieves. For the preparation you will also need:
Spoon for stirring

If no dedicated Cold Brew Dripper is available, you will need a

strainer

 or alternatively a hand filter or a 

Chemex 

with filters
Do you have about 12 hours until you want to enjoy your cold brew? Perfect, then just follow our instructions!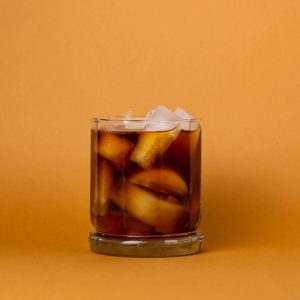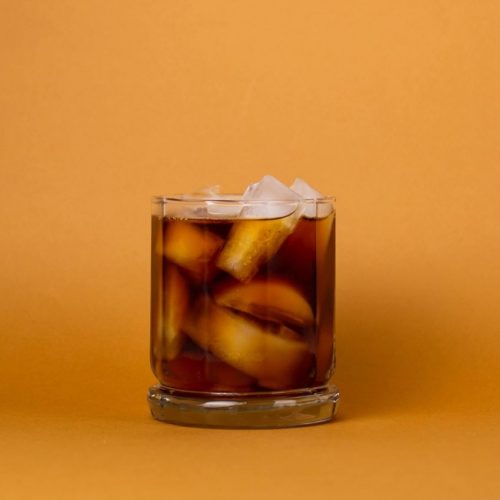 Cold Brew Coffee Recipe
Perfect for hot summer days and in the home office! Would you like to prepare the coffee trend yourself at home? We show how you can easily prepare cold brew coffee yourself
Equipment
Coffee Grinder

Coffee Maker
Ingredients
7

g

Coffee Beans

1

l

Cold Water

100

ml

Filter Coffee
Instructions
Take the beans of your choice and grind them as coarsely as possible. A good guide is the grind size for the French press.

Put the freshly ground coffee in the first coffee pot

Now add 1 liter of cold water.

Stir the coffee and water mix well to distribute the grounds.

Cover the container and leave the coffee in the fridge for at least 12 hours - longer is not a problem and can even improve the end result. Give it a try with up to 24 hours of rest.

Now the ground coffee is filtered: You can use a sieve for this, it works easier with a classic hand filter , a Chemex or a special cold brew maker . Since the degree of grinding is coarser, a good filter bag with coarse aroma pores should be used.

Enjoy your cold brew coffee and top it with ice cubes if you like! 
Notes
A special feature of the cold brew coffee is that it has an extremely long shelf life. You can store it in the refrigerator for up to two weeks after preparation. So you can always take a sip when you feel like it - unlike coffee, which at least needs to be drunk warm.
If you want to go fast, you can also use the cold drip method instead of the full immersion method described above. But how does this differ? The most important change lies in the preparation time of the drink. Instead of waiting 12 hours, the specialty can be made in two to three hours via a cold drip. Water is added drop by drop to the ground coffee. However, you need a special preparer for this, without which you will not be able to make your own.
Instead of two cups, you can also use a French press (press can). Here you just have to make sure that you only use the lid to cover and only press down the stamp after 12 hours.
Ideal Coffee Beans For Cold Brew
Important information in advance: not every coffee roast and bean is suitable for cold brew coffee. Particularly dark roasts and intense espressos are even less suitable, as they taste extremely bitter due to the long-brewing time. For the best cold brew coffee, classic filter coffees with a light to medium roast profile are best.
And to make your search for suitable types even more pleasant, you will find an extra category page in the roast market shop with cold brew coffee types that are ideal for preparation.
Special tip:
It is best to grind the coffee beans yourself with a coffee grinder shortly before preparing the cold brew concentrate so that the fine and sometimes fruity aromas are created. The ground coffee should be ground a little coarser, like a French press.
You can conveniently store the Cold Brew concentrate in the refrigerator. Ideally, you should use up the concentrate within two weeks, otherwise, the aromas will increasingly evaporate and the full-bondedness and taste will be lost. Besides, it's far too refreshing to forget anyway! 
Enjoy The Cold Brew In Many Ways
What do you do with the concentration now? Since the aromas are very concentrated and intense and not every coffee drinker likes pure consumption, the cold brew concentrate is often diluted or otherwise "personalized". In addition to simply pouring hot or cold water on it, there are countless other ways you can process and enjoy the cold coffee trend.
Variant 1:

 Depending on personal preference, two to three parts of water can be mixed with one part concentrate to achieve a balanced taste. The ratio can be varied as you like, but the rule is: to try it out until you have reached your ideal cold brew coffee taste.

Variant 2

: The classic cold brew coffee is topped with 

ice cubes

, so the coffee stays cold and is also stretched a little. Especially on hot days, this preparation is ideal as a refreshing cool down.

Variant 3

: Cold Brew is also an excellent base for 

iced coffee

. To do this, you can simply pour cold water over the concentrate, add 

vanilla ice cream

 and 

whipped cream

– and delicious iced coffee is ready! 
Cold Brew Coffee Cocktails? - Yes!
It is also possible to mix the cold brew concentrate with fruit juices, various tonics, liqueurs, syrup, or milk, and milk substitutes. But the cold brew concentrate can also be transformed into delicious and refreshing cocktails quickly and with a few tricks for special cocktail evenings or barbecue parties. We present our favorites: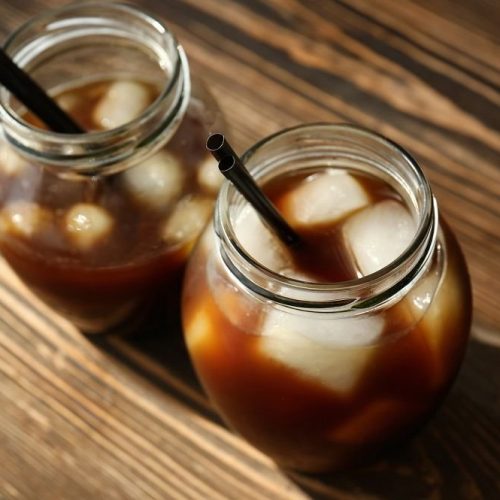 Cold Brew Gin And Tonic
Is your favorite summer drink a refreshing gin and tonic? Then get creative with us and top your drink with cold brew coffee concentrate. In just a few steps you have a delicious cold brew gin and tonic cocktail, which you can also ideally serve to guests. 
Ingredients
30

ml

Cold Brew Concentrate

Filter Coffee

150

ml

Cold Water

160

ml

Tonic Water

4

cl

Gin

4-6

Ice Cubes
Instructions
Pour about 15 ml of the finished cold brew coffee concentrate into a long drink glass. 

Pour in the gin and tonic water. 

The Cold Brew Gin Tonic is ready!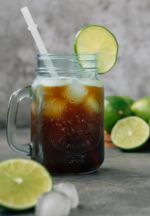 Cold Brew Mojito
Another recipe is the Cold Brew Mojito! Fresh and fruity lime, mint leaves and cold brew? An ideal combination, in our opinion. And here, too, the preparation is very simple.
Ingredients
30

ml

Cold Brew Concentrate

4

cl

Rum

5

ml

Mineral Water

1-2

tbs

Lime Juice

1-2

tbs

Sugar

10-12

Fresh Mint Leaves

4-6

Ice Cubes
Instructions
Mix lime juice, mint leaves and sugar and pour into a highball glass.

Add rum, cold brew concentrate and ice cubes.

Add a little mineral water and mint leaves to the garnish to taste. 

The Cold Brew Mojito is ready!
In any case, there are no limits to your own creativity! Whether you prefer to mix gin, rum, or non-alcoholic tonic water with your cold brew concentrate, all cocktails are wonderfully refreshing and perfect for the warm days!
Share Your Coffee Moments With Us
Have you already tried our cold brew coffee recipe or the cool cold brew cocktails or perhaps other insider tips for the perfect, cold coffee for us? Then feel free to share your photo with us on Instagram – tag us with @coffeebeaneries and #coffeebeaneries. We look forward to your Frappuccino creations!
Cold brew coffee is:
much more intense in taste than hot brewed

coffee

.

charged with less acid and bitter substances and therefore mild.

to produce in stock.

a changeable pleasure – also ideal for sundaes, iced coffee, and cold brew cocktails.

perfect to take with you on trips or for a picnic in the summer!

even easier to prepare with special

cold brew equipment

!
So why not try something new and refreshing with cold brew coffee? The trend is particularly suitable for summertime when it can be used in so many different ways and tastes good.