How Do You Make Irish Coffee ☕ that contains sugar, whiskey, and cream? Irish coffee is a coffee specialty that comes from Ireland and is often served in bars and restaurants.
Since the popular drink contains alcohol, it can sometimes be found on cocktail menus. Irish coffee is so versatile that it is not just popular with coffee connoisseurs. Due to its mild taste, it is also well received by many tea drinkers.
Read the recipe to find out how to prepare the delicious Irish coffee yourself!
The History of Irish Coffee
Irish coffee, as the name suggests, originated in Ireland and was invented by Joe Sheridan in the 1940s. Joe Sheridan was then the chef of a restaurant located at Foynes Airport.
It is said that several American travelers were stranded at Foynes Airport on a cold winter evening because bad weather conditions prevented their plane from taking off for the United States.
Joe Sheridan served the soaked and frozen Americans a coffee with a shot of whiskey and a topping of whipped cream to warm them up.
When one of the Americans wondered if the landlord could serve them Brazilian coffee served, the Irishman replied somewhat grumpily that it was not Brazilian coffee, but Irish coffee, of course.
Since the guests appreciated the drink very much, the restaurant offered it as Irish coffee from then on.
However, this coffee only celebrated its international breakthrough in the early 1950s, when an American travel journalist discovered and appreciated the drink on a trip to Ireland.
Without further ado, he brought it to America and told a good friend, a bar owner from San Francisco, about it. Both attempted to emulate the drink popular in Ireland, which lore has caused some headaches.
After some time, however, they managed to imitate the authentic taste of the coffee, so the first Irish coffee was served in the USA at the end of 1952.
Within a short time, the drink began its triumphal march in the United States and became a cult drink that is still popular in bars and restaurants today.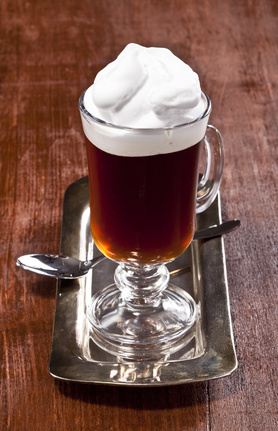 The original contains only four ingredients with Irish whisky, regular coffee, sugar, and cream. First, very strong filter coffee is prepared and set aside. Now 4 cl of Irish whiskey is heated with a teaspoon of sugar.
When it comes to whiskey, you should go for a mild whiskey that doesn't have such a pronounced smoky note (Clontarf Single Malt or Tullamore Dew are ideal).
It is important that the sugar dissolves in the whisky, but the whiskey does not start to boil. This way the alcohol stays in the drink, which is desirable.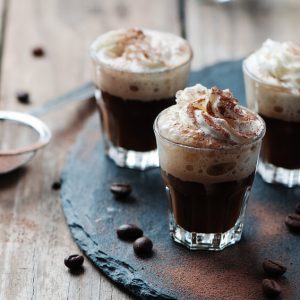 Irish Coffee Recipe
Cocktails are usually used for refreshment. Fruit often meets spirits for a mental trip to the beach and sea. However, cocktails can also warm the soul just as well. To do this, use our Irish coffee recipe and then mix coffee with whiskey and whipped cream.
Ingredients
50

ml

Whipped Cream

2

tsp

Sugar

4

cl

Whiskey

150

ml

Coffee

1/4

Pinch of Nutmeg, Freshly Grated
Instructions
Whip the cream with a hand mixer until stiff.

Melt the sugar in a coated pan to a viscous mass and pour into Irish Coffee glass. Pour in the whiskey first, then hot freshly brewed coffee, stir.

Put the cream topping over an upturned teaspoon and dust with freshly grated nutmeg.
Notes
Sheridan heated and caramelized everything with special bar utensils. 
For our Irish coffee recipe, on the other hand, the pan is sufficient. 
There you caramelize the sugar. 
In addition to the traditional Irish coffee ingredients, you can of course also vary. 
For our recipe, for example, grate a little nutmeg over the whipped cream to top it off. 
Also, be sure to use Irish 
not Scotch whiskey or even American bourbon. 
The former tastes a little milder than Scottish variants and therefore fits perfectly into the special Irish whiskey glass.
This is How Irish Coffee Can be Drunk
How you want to drink Irish coffee is up to you. The ideal taste results when the coffee is drunk through the layer of cream. Many connoisseurs also eat it with a spoon and put a little cream topping on every single teaspoon.
Some also stir their Irish coffee vigorously so that the cream mixes with the rest. In all three cases, the drinker receives a tasty drink that is a bit unusual, but tastes all the more delicious!
On What Occasions Is Irish Coffee Drunk?
It is a typical autumn drink that is drunk especially on cold and rainy days. The hot coffee warms the body and the mild sweetness puts a smile on the face of the drinker.
Irish coffee is often enjoyed in the late afternoon and evening in a convivial atmosphere. But you can also enjoy this wonderfully alone. If it's raining and storming outside, the Irish coffee is the perfect way to round off an afternoon of reading.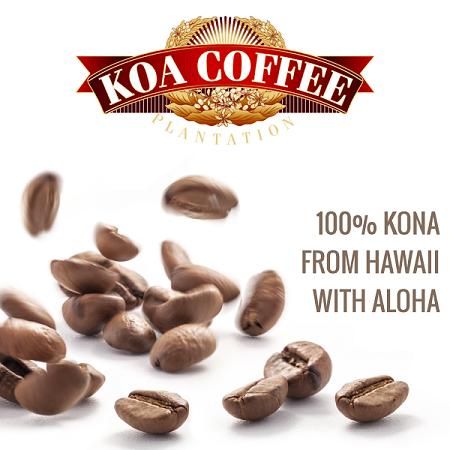 Unfortunately, Irish coffee has unjustly disappeared from many bar menus in recent years.
The good news, however, is that there are also many coffee lovers who are rediscovering the drink, which ensures that the popular drink will not be forgotten in the future either.
Conclusion On Irish Coffee
An authentic Irish coffee is characterized by the following aspects:
The Irish Coffee Cup which is served
Its dark color and the perfect cream topping
The right mixture of alcohol, coffee, and sugar is the basis for the strong taste
The Irish coffee is an ideal drink for rainy autumn evenings. It tastes sweet and mild, and the strong coffee and whiskey nevertheless give it a distinctive character, which not only coffee connoisseurs appreciate.